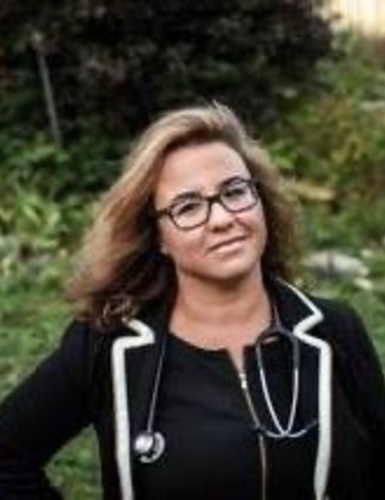 Dr. Mariem Idrissi is a licensed Naturopathic Doctor with extensive experience as a medical doctor. She graduated from Casablanca Medical School in 2007. She is experienced in internal medicine, paediatrics, gynaecology-obstetrics, cardiology, and dermatology. Despite her successful career as a family doctor in Casablanca, Mariem became dissatisfied with Western medicine and its reliance on prescription drugs. Mariem's passion for healing drove her to enrol in naturopathic medical training at the Canadian College of Naturopathic Medicine (CCNM).
After she received her doctorate of Naturopathic Medicine, Dr. Mariem acquired further training in paediatric care, pre- and post-natal care, and hormonal modulation in female infertility. She utilizes all naturopathic modalities including diet, nutritional supplementation, botanical medicine, acupuncture, and homeopathy. Dr. Mariem has advanced training on the proper use of Bio-Identical Hormone Therapy, Integrative Oncology, Weight Management and Naturopathic Skin Care (acne, rosacea, scars treatment, facial rejuvenation, and cosmetic acupuncture). She has incorporated an individualized weight loss program based on the results of over 40 blood tests allowing Dr. Mariem to customize a treatment plan which increases the body's metabolism.
Having extensive experience working with both conventional and naturopathic medicine, Dr. Mariem integrates this knowledge to provide the best possible care for her patients.
She is a mother of two children and has clinical interest in:
Paediatric care, pre- and post-natal care Digestive Disorders (e.g. IBD, GERD, IBS) and Food and Environmental Sensitivities/Allergies Menopause/Andropause and Bio-Identical HRT Skin Conditions (e.g. eczema, acne, psoriasis) Cardiovascular Disorders (e.g. high blood pressure, high cholesterol) Autoimmune disorders (e.g. MS, rheumatoid arthritis) Thyroid Disorders (e.g. Hashimoto's, Grave's, Hypo/Hyperthyroidism) Musculoskeletal/athletic Injuries and Degenerative Conditions (e.g. arthritis) Chronic Fatigue Syndrome and fibromyalgia Seniors Health (e.g. osteoporosis) Prostate Health Her healing philosophy involves taking the time to teach her patients about their health and treatment options while focusing on the whole person, not just symptoms. She uses the most effective natural treatments in conjunction with the latest medical research and conventional medicine.
Dr. Mariem Idrissi offers services in French, English, and Arabic.